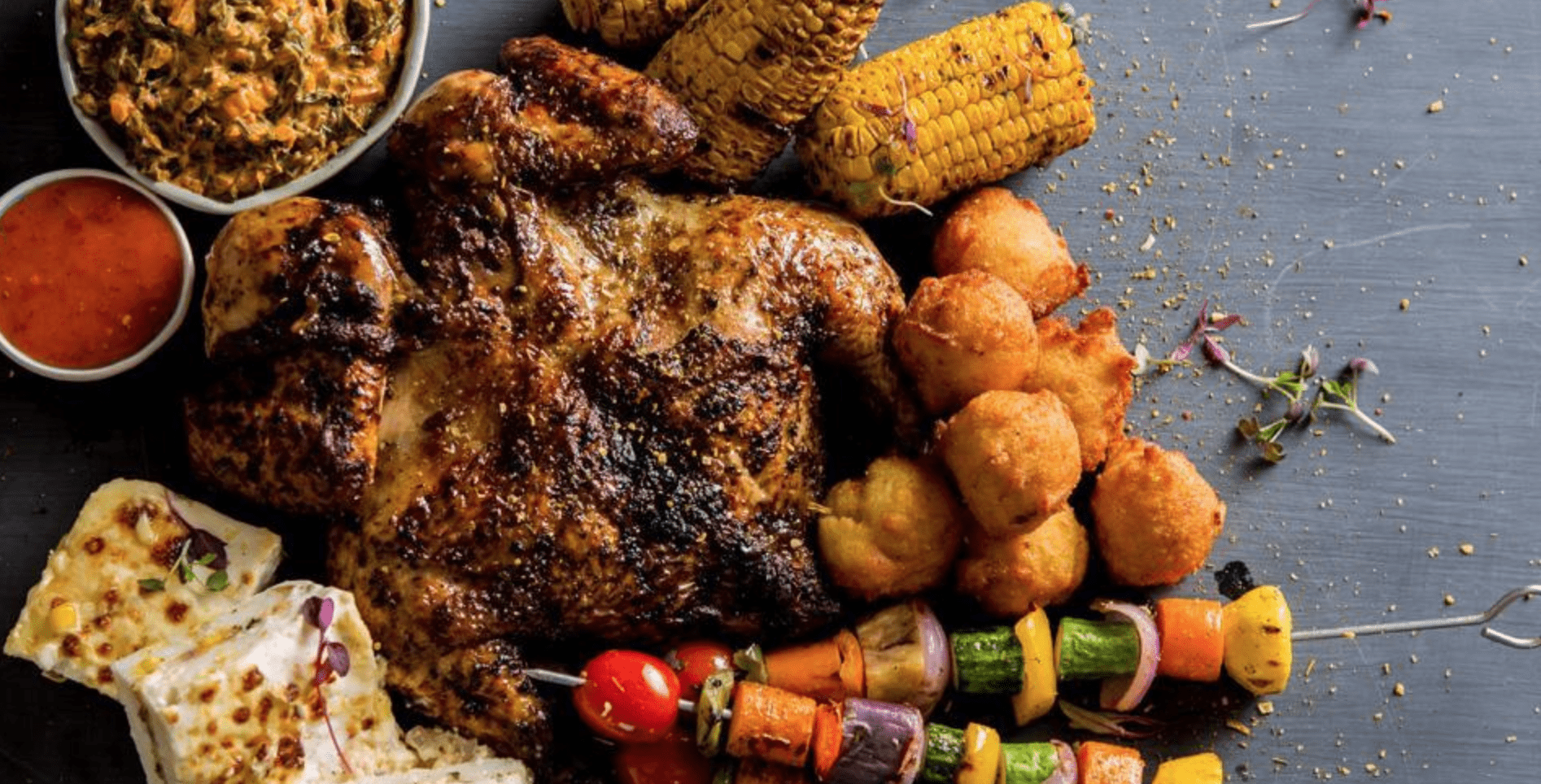 Zesty Marinated Flattie
Zesty Marinade Flattie
Ingredients
XL Whole Chicken 

140ml Lemon Zest & juice 

22 g

Lemon zest

25 g

Garlic, crushed

40 g

Robertsons Chicken Spice

40 ml

sea salt

30 ml

Ginger, Grated

30 ml

Honey

11 g

Robertsons Parsley
Layered Biltong, Mushroom & Cheese Pap Tart
250ml Boiling Water 

2 ml

Knorr Aromat Original

85ml Maize Meal 

85 g

Sweet-corn, frozen

5 ml

Olive oil

25 g Red

Onions, 

85 g

Mushroom (roughly chopped)

5 ml

Basil leaves (fresh)

25g Sliced Biltong 

2 g

Garlic, crushed

35 g

Mozarella (grated)

10 g Gruyere

Cheese, 

5 g

Butter

85 ml Fresh

Cream
Golden Braai Meilies
45 ml

Coriander, fresh, chopped for garnish

5 ml

Robertsons Paprika

1.5kg Whole Mealiers 

125 g

Butter
Vegetable Kebabs
80 g

Butternut

80 g

Baby Marrow

53 g

Pepper, green

70 g

Cherry tomatoes (rinsed and halved)

95 g

Patty Pans

20 ml

Robertsons Veggie Seasoning

10 g

Butter
Braai pap
38g Mealie Meal 

2 g

Robertsons Savoury Rice

1ml Crushed Chilli 

79 ml

Water

18 ml

Milk

3 ml

Oil

13 g

Onions

1 Egg yolk

52 g

Self raising flour

21 g

Cheese, Cheddar
Spicy Spinach
46 g

Onions

6 g

Knorr Professional Peri-Peri Marinade

135g Spinach (Chopped & Blanched) 

20 g

Butter

16 ml Fresh

Cream
Methods
1. Zesty Marinated Spatchcock Chicken
Combine all the ingredients, place into a blender and blitz for a couple of rounds.

Remove the Backbone and Flatten to shape into a spatchcock.

Score the skin and place in the marinade for 30 minutes.

Place marinated spatchcock into a sandwich grid and Braai over Moderate coals.

Turn often to prevent chicken from burning, basting with left over Marinade.
2. Layered Biltong, Mushroom & Cheese Pap Tart
PAP
Preheat oven to 180°C

Place the water and Knorr Aromat stir in the butter and then whisk in the pap. Turn the heat down, cover with a lid and cook it over very low heat for 15 minutes. Whisk twice during cooking to get rid of any lumps.

Stir in the corn and cook for a further 5 minutes
FILLING
Heat the oil in a pan over medium heat.

Gently sauté the onion until translucent.

Turn up the heat and add in the mushrooms. Fry for 3-4 minutes and then add the Garlic and fry for another minute.

Stir in the basil and season with Robertson's Veggie seasoning.

To assemble the tart: place half of the pap at the bottom of a 15cm × 20cm oven proof dish. Add the mushroom filling on top. Add a layer of biltong and then the mozzarella cheese.

Pour over half the cream and then the rest of the pap. Neaten the edges so that all of the filling is covered. Pour over the rest of the cream and then scatter the grated Gruyere on top.

Bake for 15 minutes until the cheese is melted.
3. Golden Braai Meilies
Mix butter, coriander and Robertson's Paprika together. Return to the fridge to chill.
Pull the skins of the mealies back. Rub the 4 mealies with the extra butter and then braai over medium to hot coals turning Frequently until cooked.

Cut the braaied mealies in half.
4. Vegetable Kebabs
Combine all the cut vegetables then pour over the olive oil and sprinkle some Robertson's Veggie Seasoning.

Thread vegetables on skewers.

Grill on heated Braai and keep turning until cooked.
5. Braai pap
In a pot, cook Mealie meal, Robertson's Savory Rice, Crushed Chilies and water, stirring until mixture becomes still and begins to form a ball.

Remove from heat and add milk, oil and onion and mix well. Allow to cool slightly before stirring the eggs into the mixture.

Add the flour and cheese and mix to form a fairly stiff mixture.

Pour oil for frying into a deep or Deep fat Fryer and drop spoonful's of batter and fry until golden brown on all sides.
6. Spicy Spinach
Heat butter, add onions and sauté until soft.

Add garlic, Knorr Peri peri Dry Marinade and cook for 1 Minute.
Add Knorr Tomato pronto and simmer for 5 Minutes.

Add blanched spinach to tomato sauce and cook for another minute.

For a creamer taste: Add cream to the peri peri Spinach and bring to boil.