LICENSE
At food culture Liquor Social Responsibility Policy
The team welcome you to At food Culture Liquor. We take our responsibilities seriously and we invite you to read and support our policy below. Alcohol will 
NOT
 be sold to minors. Our website requires the buyer to tick an on-screen box declaring that they are 18 years of age or over when they first enter the alcohol section of our site and again immediately before the sale of any alcohol is completed. The only acceptable forms of ID are:
Current NZ Drivers License
Any current Passport
HNZ 18+ Card or Kiwi Access Card
As a company providing a website which hosts information and sales for alcohol, our team is trained in the Sale and Supply of Alcohol Act (SSAA) 2012. Our team is aware of their responsibilities under the SSAA 2012. Alcohol will not be promoted in an irresponsible manner. Alcohol will not be delivered after 11pm at night and before 7am in the morning.
We care about our community, so we take our social responsibility extremely seriously with public safety being paramount in our objectives. We appreciate your help in continuing to make this a safe and respectful environment for everyone to enjoy and we look forward to you coming back to the at food culture Liquor website soon.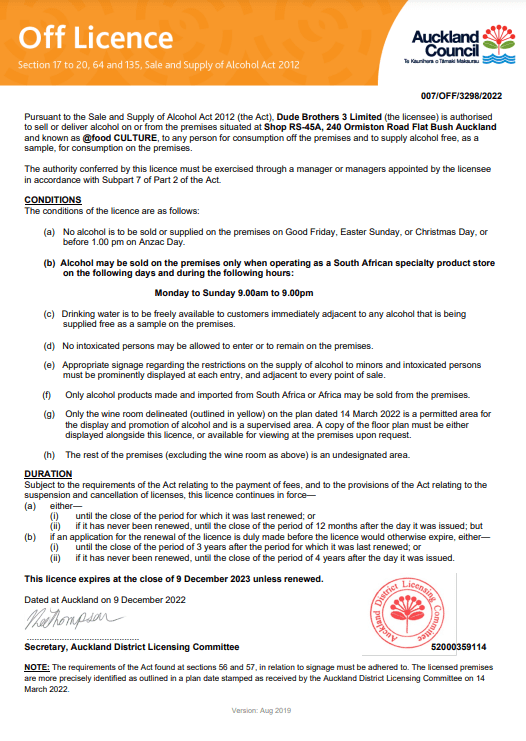 Buy South African Liquor in NZ
Do you miss your favourite wines and other liquor brands from South Africa? If so, you should browse our range at At Food Culture- @food Culture Ormiston store Only.
Our wines include whites, reds, rosé and sparkling wines from some of the best and most well-known vineyards in South Africa.
We also offer brandy and other types of liquor popular in South Africa.
Our liquor range is ideal if you want to buy something you haven't had since you were last in South Africa, but they make fantastic and surprising gifts for your South African friends and loved ones too.
So, if you're looking for South African liquor to enjoy right here in NZ, browse our range or visit our store at @food culture Ormiston- Address: 45 A Bellingham Way, 240 Ormiston Road, Auckland 2016.
Yes, it sure is. There are a few more clicks you need to go through for us to ensure you are over 18, but once all of our obligations are met under the Liquor Laws, we can ship your liquor along with the rest of your order.

Alternatively, you can visit us in-store – we'd love to see you! This is the best option if you live or work close to our physical shop as you can browse the range at your leisure and buy whatever you need. we also have gift basket for all your needs or even you can pick and choose for gift basket.Call in to see us today @food culture Ormiston- Address: 45 A Bellingham Way, 240 Ormiston Road, Auckland 2016.
Remember, we sell and ship other products online too!
Products in Our Range
Our range of South African liquor products includes:
Allesverloren Old Vintage
Amarula Cream
Bertrams Brandy
Bols Brandy
We also offer a fantastic range of wines:
Alto Rouge
Autumn Harvest Crackling Wine
Backsberg Cabernet Sauvignon, Dry Red, and Sauvignon Blanc
Bellingham Johannesburger Legacy
Roodeberg
Diemersfontein
Beyerskloof Pinotage
Boland Pinotage and Red Muscadel
And more