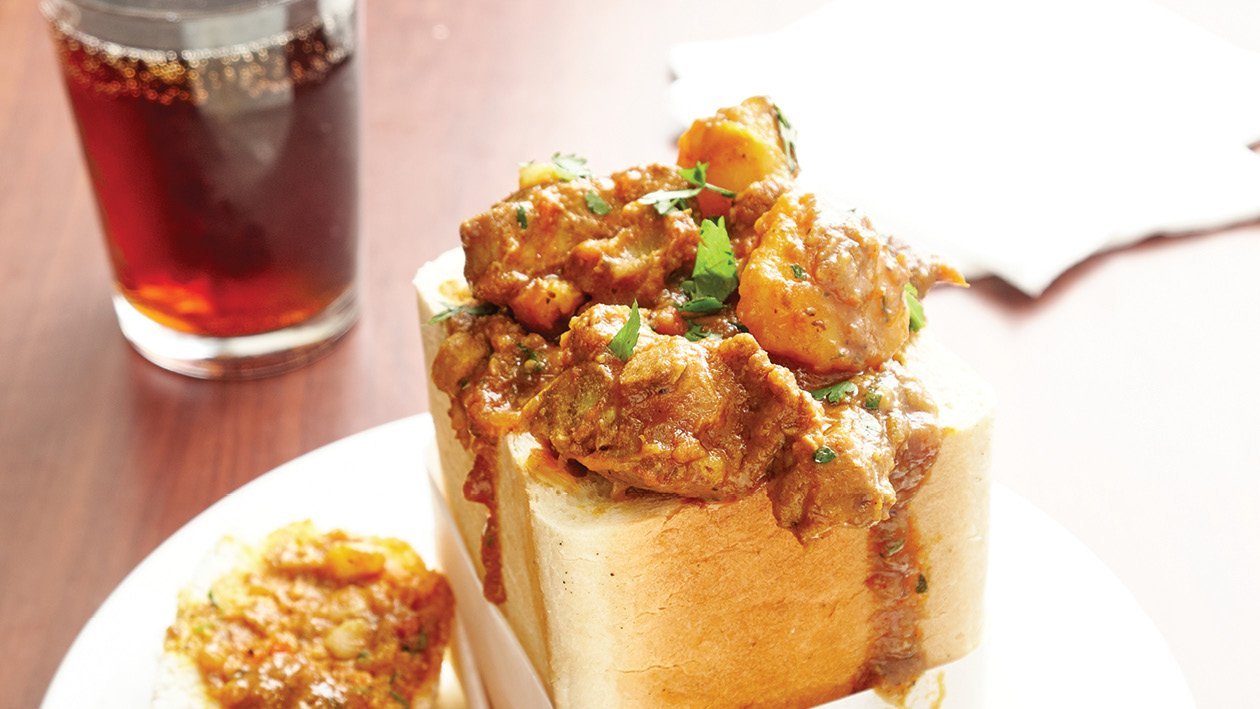 Lamb Bunny Chow
Lamb Bunny Chow
This recipe is one of the most popular South African dishes for a reason!
A quarter loaf filled with lamb curry and dripping with a rich gravy… comfort food for all Saffas.
Ingredients
1 g

Black pepper (crushed)
200 g

Onions (finely chopped)
5 g

Green chillies (chopped)
300 g Potatoes (peeled, and cut into 5cm cubes)
2 Loaves of bread (unsliced)
Fresh coriander (roughly chopped)
Dry roast the Durban masala (cinnamon sticks, cardamom pods, cloves, star anise, cumin and whole coriander) for 3 min, cool for 5 min then grind to a powder. Store in an airtight container.

Brown the lamb for 10 min in a pot at a high temperature. Add Knorr Original Aromat, black pepper, 2 g Robertsons Turmeric and Knorr Beef Stock Granules, then add 1.25 L water. Simmer for 1 hour 30 min.

In a large pot heat the oil, add the onion and bay leaf. Cook until onion is soft. Add the chilli and garlic. Cook for a further 3 min. Add the cooked meat along with the stock. Add 10 ml Durban masala powder.

Stir in the 2 g Robertsons Turmeric, Robertsons Peri-peri and Knorr Tomato Pronto, cook for 5 min then add the potatoes and 375 ml water. Cover and cook for 20 min.

Divide each loaf into 3, make a hollow in the centre and scoop out the top piece of the bread. Fill the hollowed bread with the lamb curry, top with chopped coriander and place scooped out piece of bread back on top.
Chef's Tip:
Be careful not to burn the spices when dry frying.

Protein option: Chicken or beef can be used instead of lamb.